The Tax Increment Financing (TIF) Illumination Project is an ongoing civic investigation and education project that will take an in-depth look at the impacts of TIFs on the city on a ward-by-ward basis. We are developing data analysis tools and visualization tools like charts, posters and web sites to explore and explain TIFs.
It's a BIG deal – In 2013 a total of $683 million in property taxes were extracted by a total of 435 TIFs across all of Cook County. $422 million was taken in city property taxes from 151 TIFs inside Chicago and $261 million was extracted in suburban property taxes from the 284 TIFs in the suburbs.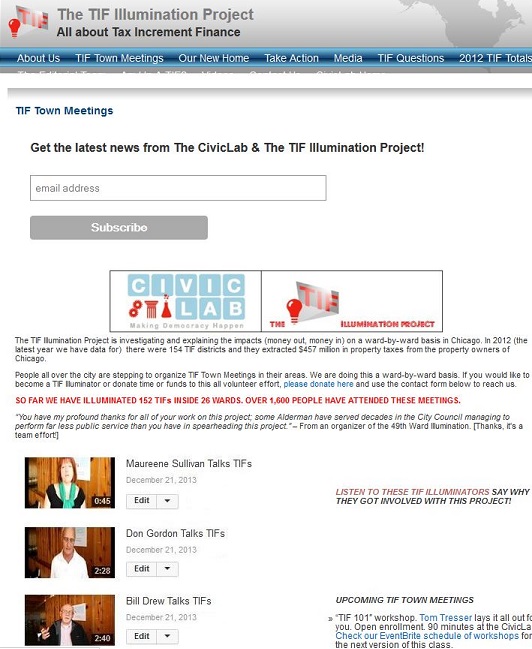 Our work lives on a sister web site – http://www.tifreports.com – which is serving as a news aggregation site currently.
WE COLLABORATED WITH THE TAX INTEGRITY AND FAIRNESS ALLIANCE TO PRODUCE A TIF TOWN MEETING ON FEBRUARY 12, 2013 AT THE CHOPIN THEATRE.
Over 230 people packed the space to listen to local finance expert Professor Richard Dye, CivicLab co-founder Tom Tresser and award-winning political reporter Ben Joravsky talk TIFs. See the media coverage and Tom's presentation materials on our research of the 12 TIFs inside the 27th Ward here.
Since then we have worked with volunteers from across the city to present information TIFs in neighborhoods across the city.

You can learn more about these presentations here.
You can watch four brief videos of TIF organizers telling why they got involved in this project here.
TIF Illumination Project organizer Tom Tresser was interviewed by WBEZ Public Radio's "Curious City" Project: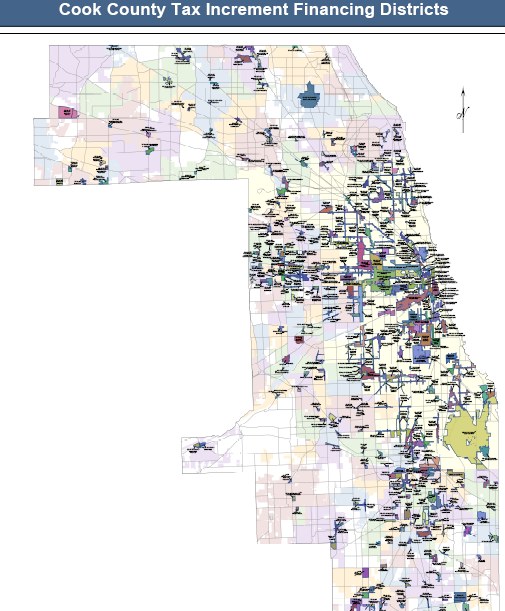 To start this project we have selected the 27th Ward on Chicago's Near North side, which has 12 TIFs running through it. The one with the smallest footprint in the ward, the Pulaski Industrial Corridor, is only 2% inside the ward. The Kinzie Industrial Corridor has 86% of it's land mass inside the ward.
We have built a tool set that allows us to look at the number of properties that are in each TIF district and then overlay that map on top of the ward boundaries. This tells us exactly which part of a TIF is in a ward. We then look up how much property tax has been paid by those properties. We know how much property tax is captured by a TIF district if a given property is IN a TIF. We then total up the TIF revenues extracted by the TIFs for the given ward. We are almost finished with the analysis for the 27th ward. We then looked at the total TIF extraction from these 12 TIFs over the past nine years – that's how long all these 12 TIFs have "lived together." IT'S A HUGE NUMBER.
We take this data and gave it our graphic designer, Carlyn So, who turned it into a graphic poster. Here is the poster for the 27th Ward. We tell you the following information, on a ward-by-ward-basis:
(1) How many TIFs are in your ward, and what percentage of each TIF,
(2) How much property tax those TIFs extracted last year,
(3) How much money was LEFT in those TIF accounts at the start of this year,
(4) What projects were funded by TIFs inside the ward.
No one else can tell you these things. If you would like YOUR ward Illuminated, contact us at [email protected]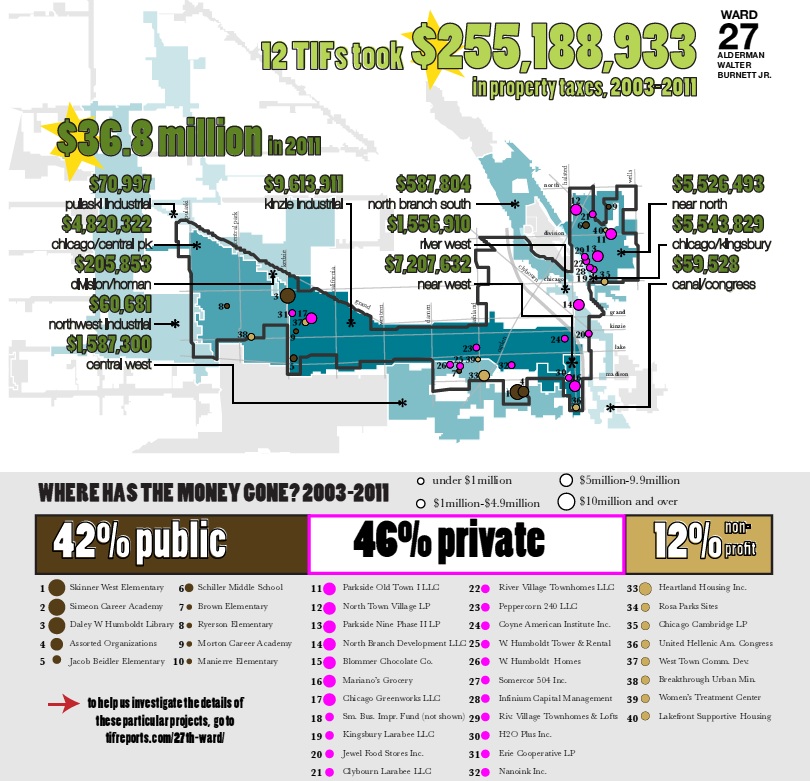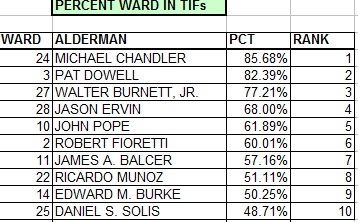 Do YOU live in a TIF-saturated ward? How much have YOU paid? What projects got public subsidies where YOU live?
[How Do TIFs Work?] [Visit The TIF Reports web site to see our ongoing research]