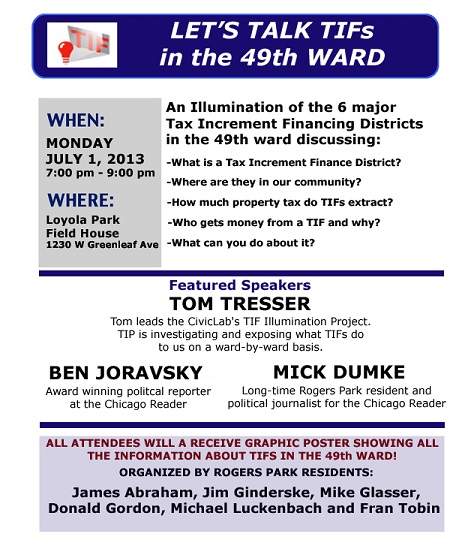 It's going to be a TIF-APALOOZA in the 49th Ward on Monday, July 1st! Join us at 7pm at Loyola Park when we expose the TIFs in the north Rogers Park community. Details & RSVP via Facebook at http://tinyurl.com/TIF-Present-7-1.
This is going to be an extra-special Illumination because we'll be joined by the Chicago Reader's amazing political reporting team of Mick Dumke and Ben Joravsky. They've reported extensively on TIFs and related issues here for years. Mick is a long-time resident of the 49th ward.
This will the TIF Illumination Project's last community Illumination for a while. We are re-grouping and evaluating the work done over the past four months. We've Illuminated 89 TIFs in 12 wards before some 1,200 people. Not bad for an all volunteer effort!