Chicago needs a place and space like the CivicLab to help citizens do democracy. According the State Investigation Project from The Center for Public Integrity, Illinois gets a miserable grade for public integrity. According to Statehouse reporter Amanda Vinicky, dispite some recent legislative efforts, there has been no real change here.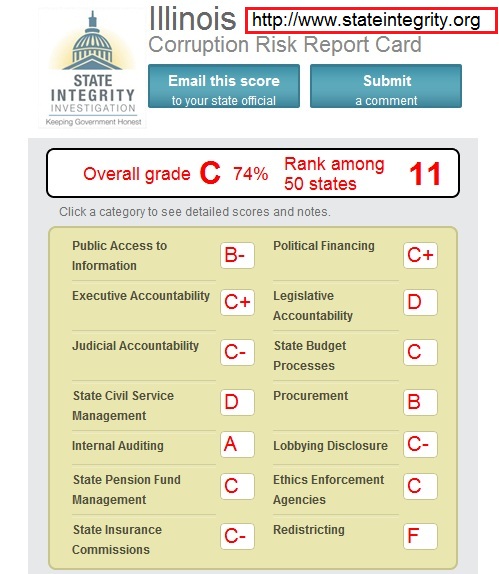 "But in some ways, they are like nips and tucks — cosmetic facelifts that conceal a host of ethical loopholes. Despite wide knowledge of its crooked history, Illinois remains a state where lobbyists do not have to disclose their fees, where legislators cannot be sanctioned for conflicts of interest, and where the judges who make it on the bench are those with the best political connections.
In a study released on Feb. 15 by the University of Illinois at Chicago and the University of Illinois Institute for Government and Public Affairs —which ranked the per capita number of government appointees, employees, and others convicted of public corruption— Illinois came in a dismal second among states, behind Louisiana (the District of Columbia was the worst).  According to the report, since 1976, the state tally of convictions is 1,828 – or around 51 per year; "at the heart of most convictions," the study said, "is a payoff for something that is a sweetheart contract or a law or permit necessary to do business."
And just Friday, the Illinois Legislature expelled Rep. Derrick Smith from the House – the first time that's happened in over 100 years. Federal prosecutors accused Smith of writing a letter of recommendation on behalf of a day care center for a $50,000 grant in exchange for the fictitious operator kicking back $7,000.