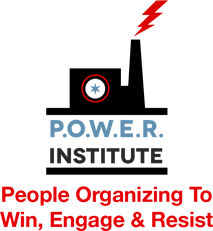 The CivicLab proudly announces the launch of The POWER Institute to deliver  training programs to help you organize, resist, engage and WIN for social justice!
Welcome the POWER (People Organizing to Win, Engage & Resist) Institute to the battle for justice and equity!
Our first workshops are on basic subjects to prepare people who are new to public life. All attendees will get a copy of "Chicago Is Not Broke. Funding the City We Deserve."
"Chicago 101" – What are the basics for preparing to organize and win in a city dominated by the Democratic Machine for 75 years? You will learn the geographic and political context for the city, how wards work, who's who in the Machine and much more! Get smart in order to plan.
"Organizing 101" – Did you know Chicago is the home of modern community organizing? Learn the basic skills and mindsets of a community change maker. This will be a highly interactive session with a lot of small group work where you will map power and use a case to discuss how to re-distribute it. Led by Jonathan Peck. Get trained in order to build.
"Grassroots Campaigning" – Learn the basic steps toward putting together a principled grassroots campaign for change and justice. We will look at the aldermanic races from 2011 and 2015 and see who is MOST vulnerable in 2019! Get data in order to win.
These sessions are $40/person per session. You can attend all three for $100. We will have snacks but not dinner. All attendees will receive take-away materials with resources and links to more in-depth materials on our private wiki.
You must register via EventBrite.
"I enrolled because I want to connect with more people in my community who are interested in effecting positive change and I want to learn as much as I can to be efficient and effective in making such change. I am interested in building the community, working to solve issues we face as a city, and working to elect people in government who share my values and are willing to work for us."
– Maureen Keane, River North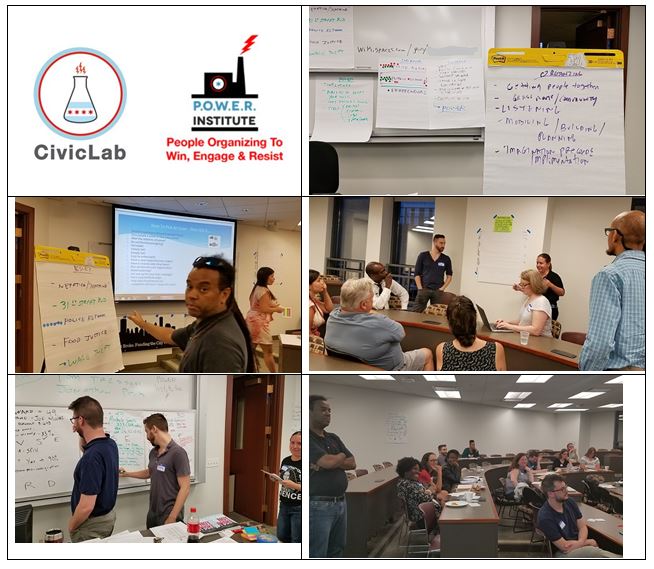 >> LEARN ABOUT OUR FULL-DAY WORKSHOP FOR CANDIDATES AND CAMPAIGN WORKERS/MANAGERS – SATURDAY, OCTOBER 14, 2017 <<<
Your trainers will be Jonathan Peck and Tom Tresser.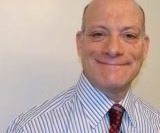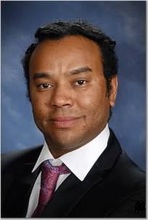 Jonathan Peck, is the Grants Manager at Alternatives, Inc., where he also served as the

South & West Side Coordinator for Restorative Justice

. He is the former President and Chief Executive Officer of the Tucson Urban League and has over 25 years experience working within the community development field facilitating projects, coalitions, and alliances at the neighborhood, citywide, regional, national and international levels. Jonathan worked as a community organizer, and later as Associate Director of the Southwest Youth Collaborative (SWYC), a Chicago based organization dedicated to the healthy development of low-income children, youth and families. Jonathan Peck has extensive experience in the international arena, most notably working on the ground in Southern Africa and Nicaragua. Jonathan has worked and visited over 15 countries across North and Latin America, Europe and Southern Africa. Mr. Peck has extensive experience as an Advisor and Consultant, providing strategic advice in the areas of organizational development, strategic planning, and nonprofit executive leadership and business management. Mr. Peck is a Master Facilitator, Organizer, Trainer, Coach and Mentor and has provided these services to over 5,000 individuals.
Jonathan recently served on the Community Relations Working Group of the Police Accountability Task Force of the City of Chicago
Tom Tresser is a civic educator and public defender. His first voter registration campaign was in 1972. In 2008 he was a co-founder of Protect Our Parks, a neighborhood effort to stop the privatization of public space in Chicago. He was a lead organizer for No Games Chicago, an all-volunteer grassroots effort that opposed Chicago's 2016 Olympic bid. With Benjamin Sugar Tom co-founded The CivicLab, a co-working space where activists, educators, coders and designers came to work, collaborate, teach, and build tools for civic engagement.  Located in Chicago's West Loop, the space operated for two eventful years closing on June 30, 2015. He is the lead organizer for the TIF Illumination Project that is investigating and explaining the impacts of Tax Increment Financing districts on a community-by-community basis.
He is the organizer and editor of the book with the answers – "Chicago Is Not Broke. Funding the City We Deserve."