The TIF Report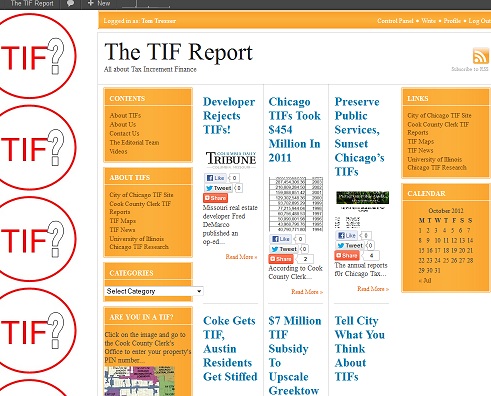 The Tax Increment Financing (TIF) Illumination Project is an ongoing civic investigation and education project that will take an in-depth look at the impacts of TIFs on the city on a ward-by-ward basis. We will be developing data analysis tools and visualization tools like charts, posters and web sites to explore and explain TIFs. It's a BIG deal – In 2011 a total of $729 million in property taxes were extracted by TIFs across all of Cook County. $454 million was taken in city property taxes and $275 million in suburban property taxes.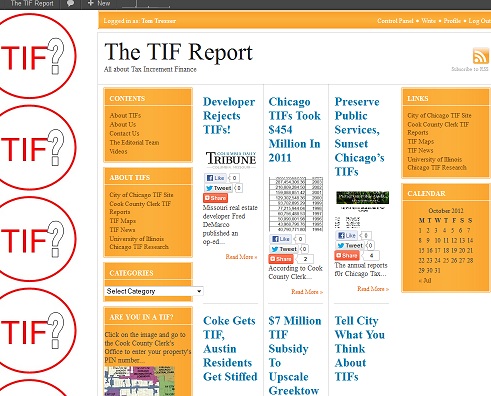 Our work lives on a sister web site – http://www.tifreports.com – which is serving as a news aggregation site currently.
WE ARE OFF AND RUNNING. WE COLLABORATED WITH THE TAX INTEGRITY AND FAIRNESS ALLIANCE TO PRODUCE A TIF TOWN MEETING ON FEBRUARY 12, 2013 AT THE CHOPIN THEATRE! Over 220 people packed the space to listen to local finance expert Professor Richard Dye, CivicLab co-founder Tom Tresser and award-winning political reporter Ben Joravsky talk TIFs. See the media coverage and Tom's presentation materials on our research of the 12 TIFs inside the 27th Ward here.
We can use help in data gathering and coding, visualization, graphic design and investigatory reporting. We'd like to work with a mobile app developer to create some smart phone tools. We would love to be connected to a civic-minded printer who would donate the printing of  5,000 copies of a four-color folded graphic poster that would explain and visualize the TIF impacts for a specific ward.
Why are TIFs such a big deal?
In 2011 Chicago's 163 TIF districts extracted $454 million in property taxes from the 50 wards and placed that money in what is essentially a second city budget – one that is extremely hard to track by average citizens.
The rest of Cook County contains an additional 280 TIF districts, which extracted $275 million dollars in property taxes from the cities where they are in effect.
So, in 2011, 443 TIF districts in Cook County diverted a total of $729 million in property taxes AWAY from the units of government that rely on property taxes for their operation and INTO what can be characterized as slush funds that may or may not come back to benefit the public. How do TIFs work?
To start this project we have selected the 27th Ward on Chicago's Near North side, which has 12 TIFs running through it. The one with the smallest footprint in the ward, the Pulaski Industrial Corridor, is only 2% inside the ward. The Kinzie Industrial Corridor has 86% of it's land mass inside the ward.
We are building a tool set that allows us to look at the number of properties that are in each TIF district and then overlay that map on top of the ward boundaries. This will tell us exactly which part of a TIF is in a ward. We then look up how much property tax has been paid by those properties. We know how much property tax is captured by a TIF district if a given property is IN a TIF. We then total up the TIF revenues extracted by the TIFs for the given ward. We are almost finished with the analysis for the 27th ward. We then looked at the total TIF extraction from these 12 TIFs over the past nine years – that's how long all these 12 TIFs have "lived together." IT'S A HUGE NUMBER.
We then are working with a graphic artist, an instructor at the IIT Institute of Design, to turn this information into several forms of communication tools. First, we are mocking up a poster-sized double-sided four-color graphic that will explain what TIFs are and summarize the data for the 27th ward. We are also looking at putting this information online in a few different formats and developing a smart phone app, "Am I In A TIF District?" that would display TIF impact data depending on where you were in the city and which would also allow users to upload data and images to contrubute directly to ongoing investigations.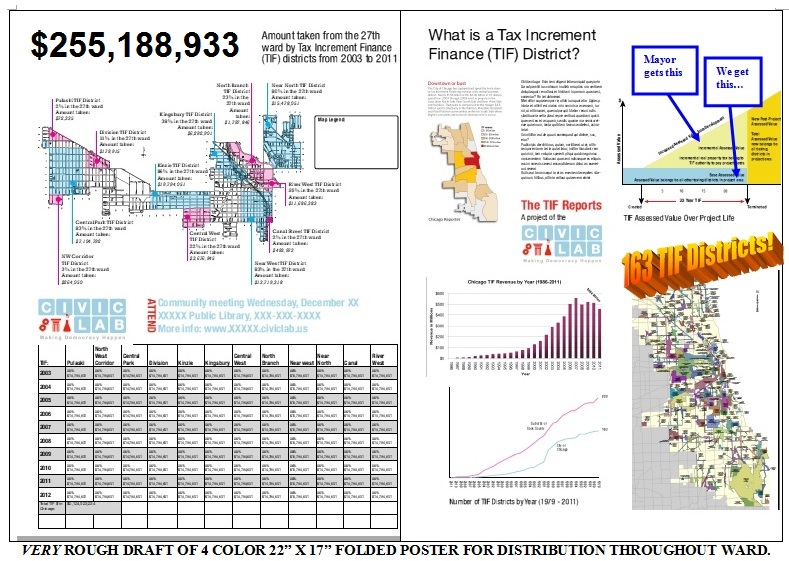 Do YOU live in a TIF-saturated ward?
[How Do TIFs Work?] [Visit The TIF Reports web site to see our ongoing research]