There are examples of the kinds of programs we'd like to model ourselves after.
The Bus Proejct -Portland –http://busproject.org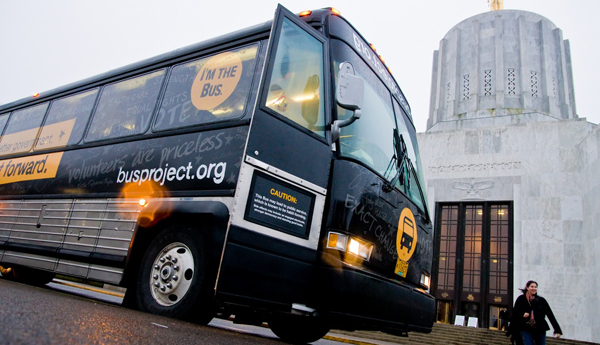 The Bus Project engages new folks in democracy, builds a great future and empowers great people to lead it, right here in the great state of Oregon. We know that the issues we love—things like keeping it green, ramping up the equality, robust health outcomes for all communities, sane economic policies, smart schools, and more accessible & effective government—can be fundamentally transformed at the state level. Which also happens to be where we can make the most difference (and provide an example for the country/world/galaxy). So that's what we do. Oh yeah, and and did we mention that you can play a leading role? Oh, and there IS a bus.
The Finance Innovation Lab – London –http://thefinancelab.org
We believe that no single institution, no one sector of society, no exclusive group of people can address the challenges we face today and we are committed to collaboration.
1. Connect – Build trust and meaningful relationships – We bring people together who don't normally meet and offer a place to bring ideas about how to change the financial system so that it sustains people and planet.
2. Incubate – Test and experiment potential solutions. – We turn ideas for change into tangible prototypes of different aspects of a new financial system.
3. Transform – Tap into personal purpose -what do we care enough about to change?

We create safe space for people to reflect on their deepest values and to work in alignment with these. Download a brochure (pdf).
The Bucketworks – Milwaukee – http://bucketworks.org
At a regular health club, you become a member to work out–improve your health, your muscle tone, your stamina. You use special equipment, in special environments, and sometimes you work with a coach. You work out regularly, so your body becomes healthy. And you become a member because you want to be amongst a community of other people who are doing the same thing–they reinforce your practice and your discipline. Bucketworks is just like that. All we've done is swap out the weight machine for the computer, the exercise bike for the table saw, and the mirrored aerobics room for the collaborative meetup room. We've picked coaches who know how to help you build ideas instead of muscles, and we've formed a community of members who all want to work out their ideas, inspirations, and passions–and who will share their experiences with you.
I visited the Bucketworks on April 9, 2012. Here is a brief tour (8 minutes) – please excuse the shaky camera work.

Here is an audio file of a conversation between Tom Tresser and James Carlson (90 minutes).

Civic Center – New Orleans – www.civiccenter.cc
"Civic Center is a creative studio based in New Orleans that works to make cities more comfortable for people. Founded by Candy Chang and James A. Reeves in 2010, Civic Center blends art, design, education, research, and urban planning to create spaces and tools that help people navigate their cities and improve their neighborhoods. We believe that public spaces should inspire conversation, make the machinery of the city more accessible, and restore a sense of dignity to the public realm."
Public Laboratory for Open Technology & Science – Cambridge, MA
http://publiclaboratory.org – Grassroots Mapping Project
The Public Laboratory for Open Technology and Science (PLOTS) is a community which develops and applies open-source tools to environmental exploration and investigation. By democratizing inexpensive and accessible "Do-It-Yourself" techniques, Public Laboratory creates a collaborative network of practitioners who actively re-imagine the human relationship with the environment. The core PLOTS program is focused on "civic science" in which we research open source hardware and software tools and methods to generate knowledge and share data about community environmental health. Our goal is to increase the ability of underserved communities to identify, redress, remediate, and create awareness and accountability around environmental concerns. PLOTS achieves this by providing online and offline training, education and support, and by focusing on locally-relevant outcomes that emphasize human capacity and understanding.
Sunlight Labs – Washington, D.C. – www.sunlightlabs.com
"Sunlight Labs is part of the Sunlight Foundation a non-profit, non partisan Washington, DC based organization focused on digitization of government data and making tools and websites to make it easily accessible. Sunlight Labs is an open source community of thousands dedicated to using technology to transform government. We focus on transparency- the idea that government can be more effective, more honest, and more accountable when it makes data about its process, operations, and influences available to the public. Our work revolves around opening up government data of all forms. Paid staff of Sunlight Labs are employees of the Sunlight Foundation a 501c(3) non-partisan non-profit organization. The Sunlight Foundation is: (1)A think-tank that develops and encourages new policies inside the government to be more transparent and accountable, (2) A campaign to engage citizens to change government's transparency policies, (3) An investigative organization that uses the data and applications to demonstrate why we need those policies, (4) A grant giving institution that gives grants to organizations using technology to further our mission and create community, (5) An open source technology community that revolves around the Sunlight Foundation's core mission."
Code For America – San Francisco – http://codeforamerica.org
"Code for America helps governments work better for everyone with the people and the power of the web. Through our Fellowship, Accelerator, and Brigade, we're building a network of cities, citizens, community groups, and startups, all equally committed to reimagining government for the 21st century. Code for America isn't just a way to offer city governments technical talent at less than market rates. Beyond just the projects our fellows build, the program is designed to: (1) Cultivate the next generation of public sector technology leaders. Up to 60% of the municipal workforce in many cities will retire in the next five years. This represents not only a crisis of talent, but also a huge opportunity. Think how much can change if we fill those positions with people who have a native understanding of how technology can work in modern urban life. (2) Inject a culture virus into city government. We recruit fellows who demonstrate a networked, web-centric and open approach to problem-solving. Attaching the fellows to the city for the year and helping them build relationships with a wide variety of city workers is an effective way to introduce this kind of thinking and help it spread. (3) Encourage experimentation. The fellows will be available for side projects in the city that would be difficult to move forward through standard channels. The city leadership and the fellows can function as an ad hoc innovation team, collaborating on a series of interesting experiments throughout the year, all of which will be shared with the other cities. (4) Change the tool set. Part of the job of the fellows will be to help introduce lightweight, simple technology that can help with internal functions. These small changes can have large lasting effects. (5) Facilitate collaboration with other cities.
Code for America is building a network of city leaders who believe there is a better way of doing things, and the program involves both formal and informal channels to share ideas and lessons learned. We're also working more robust channels for sharing applications and setting technology standards across cities
CitizenLab – Toronto – www.citizenlab.org
"he Citizen Lab is an interdisciplinary laboratory based at the Munk School of Global Affairs at the University of Toronto, Canada focusing on advanced research and development at the intersection of digital media, global security, and human rights. We are a "hothouse" that combines the disciplines of political science, sociology, computer science, engineering, and graphic design. Our mission is to undertake advanced research and engage in development that monitors, analyses, and impacts the exercise of political power in cyberspace.  We undertake this mission through collaborative partnerships with leading edge research centers, organizations, and individuals around the world, and through a pioneering "fusion" methodology that combines technical reconnaissance, field investigations, and data mining, analysis, and visualization."
Involve – London – http://www.involve.org.uk
"Involve are experts in public participation. We believe passionately in a democracy where citizens are able to take and influence the decisions that affect their lives. Through both research and practice we seek to radically transform the relationship between citizens and their governments to better use the creativity, energy, knowledge, skills and resources of all. We are currently facing complex challenges which require citizens and governments to work together to build a shared vision of a sustainable future. Experience and research has shown that when done well, public participation can help to: (1) Identify solutions to complex problems, (2) Improve the efficiency and effectiveness of public spending and services, (3) Promote social cohesion and social justice, and overcome conflict, (4) Build the confidence and agency of individuals and communities, (5) Improve well-being and reduce social problems."
The Project Lodge – Madison– http://www.theprojectlodge.com
Although mainly a venue for music and the visual arts, the vibe here is EXACTLY what we want for the CivicLab.

The Luminary Center for the Arts – St. Louis – http://theluminaryarts.com

155 Freeman – Brooklyn – under construction

A space that will be shared by Triple Canopy (an online magazine), Light Industry (cinema) and The Public School New York (self-organized education).