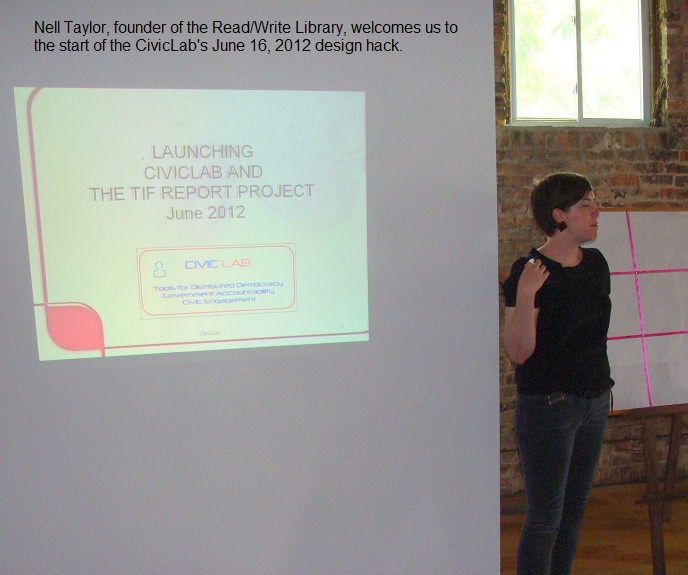 CIVICLAB DESIGN HACK

We had a design hack meeting on Saturday, June 16, 2012 from 10am – 2pm at The Read/Write Library
914 N. California [map]
773-336-2516
Notes from sessions were posted directly to this Google shared doc = http://tinyurl.com/CL-DesignHack.
View images from the session in this Flickr album thanks to Gladys Kosa-Mendoza.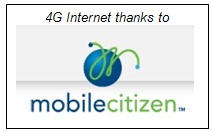 June 16 Agenda
10am – 10:15am – Schmoozing, get snacks
10:15 – Welcome to space – Nell Taylor, Executive Director, Read/Write Library (http://readwritelibrary.org)
10:20 – Special salutation from Tarek Amr – Tahrir Square freedom blogger (http://globalvoicesonline.org/author/tarek-amr)
10:25 – Why we are here – Tom Tresser, Chief Tool Builder, CivicLab (www.civiclab.us)
10:30 – Introductions and instructions – Katherine Darnstadt, Founder, Latent Design (www.latentdesign.com)
10:45 – Overview of the maker space movement – James Carlson, founder of The Bucketworks, Milwaukee and the School Factory. Watch his presentation (24:27)

CivicLab Design Hack – James Carlson on the Maker Space Movement & Bucketworks, Milwaukee from Tom Tresser on Vimeo.
Break into small groups:
(1) The life-cycle of an activist event/cause – What apps or tools could help along the way? (Moderated by Rebecca Reynolds, CivicLab Organizer) Listen to this group's report – 5:51

(2) What should be in a civic lab? Dream up programming that would then inform a foot print and space plan. (Moderated by Katherine) Listen to this group's report – 8:59

(3) Civic Education Primer – What skills should we be teaching, offering, learning to accelerate civic engagement? (Moderated by Nell) Listen to this group's report – 5:19

12pm – Lunch (pizza, salad, soft drinks) – Continue schmoozing, networking
12:30 All groups re-assemble to go over key points to present
12:45 All re-group to hear reports
1:00ish – Project pitching & voting – Listen to our wrap up and thank yous – 2 minutes

All attendees, please fill out this evaluation form! [http://tinyurl.com/CL-Hack-Evaluation]
NEXT STEPS:
July 3 "Catch Up" session for people who wanted to come to design hack, Topics, 2122 N. Halsted, 6:30-7:30pm
July 14 Leadership Organizing session & BBQ @ Tom's house, 4:00-8:00pm
==========================================================BACKGROUND MATERIALS