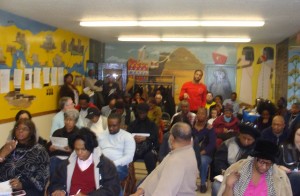 The Egyptian Room at the Washington Park Field House was SRO this morning as neighbors packed in to participate in the "Let's Talk TIF in Washington Park" Town Meeting. The TIF Illumination Project was invited to present its research on the six TIFs in the 20th Ward by Washington Park Chamber of Commerce President Donna Smith.
WVON radio host (and former Alderman of the 20th Ward) Cliff Kelley was the emcee.The attendees were highly energized and asked MANY questions. At least three more TIF meetings were generated this morning as people came up and wanted to know how they get Illuminated!
Below are the presentations given by Donna Smith and Tom Tresser (audio = 56 minutes).