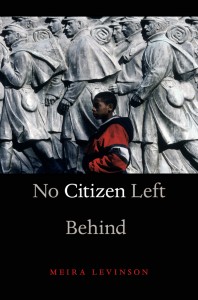 Join the Robert R. McCormick Foundation, the Institute for Policy and Civic Engagement (IPCE) at the University of Illinois Chicago, the Spencer Foundation and the Mikva Challenge for an evening of conversation with Harvard Associate Professor of Education, Meira Levinson.
While teaching at an all African American middle school in Atlanta, Levinson realized that her students' individual self-improvement would not necessarily enable them to overcome their historical marginalization. In order to overcome their civic empowerment gap, students must learn how to re-shape power relationships through public, political, and civic action. Read more about Dr. Levinson's work.
For one evening in Chicago, Levinson will discuss the themes from her new book, No Citizen Left Behind.
Wednesday, October 3 – Books available for purchase and signing by Levinson at 4:15 p.m. Lecture: 5 p.m.
University of Illinois at Chicago (UIC)
Student Center East, Cardinal Room
750 S. Halsted Street, Chicago, IL
Contact IPCE at (312) 355-0088 or visit www.ipce.uic.edu for more information.