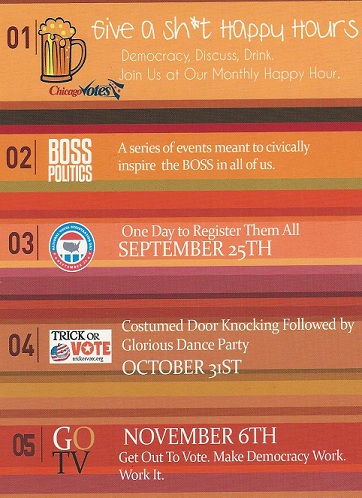 Chicago Votes is a new nonprofit dedicated to energizing young people into public life, doing voter registration work, triggering serious debate about public policy AND having a kick ass good time! Co-founded by activists T.J. Crawford and Rebecca Reynolds and sporting an impressive board of scholars and civic engagement champs, the organization is modeled after The Bus Project from Portland.
Here's how Chicago Votes describes its work. "Chicago Votes does volunteer-driven democracy for our generation. We're not left or right, but forward. We think democracy's great, and believe it works best when tons of people participate…We believe our generation can build a greater city (which sounds like a little much, but seriously — who else is going to do it?) We believe politics needs to be more accessible, more equitable, and more innovative. So we're pulling together young Chicagoans across the city to turn things around. And we're having a ton of fun doing it. Just look at Give a Sh*t Happy Hour and Trick or Vote! For more "about us," read Our Mission."
Judging by the turn out, the faces in the crowd, the aldermen who spoke, the music and the vibes, I'd say they are off to a great start! Send them some love at http://chicagovotes.com/donate.